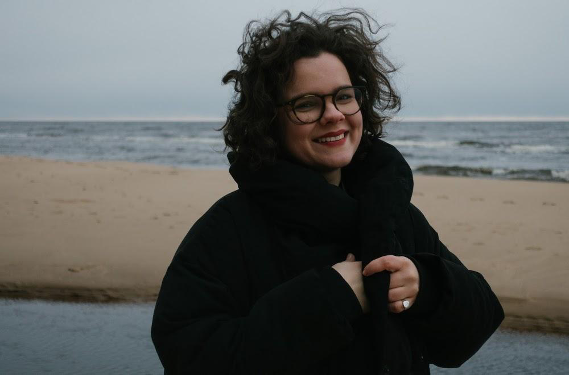 Maria Zhiguleva, Research Assistant at Hudara
"Ours is not the task of fixing the entire world all at once, but of stretching out to mend the part of the world that is within our reach… One of the most calming and powerful actions you can do to intervene in a stormy world is to stand up and show your soul. Soul on deck shines like gold in dark times. The light of the soul throws sparks, can send up flares, builds signal fires, causes proper matters to catch fire." ~ Clarissa Pinkola Estes
My name is Maria and I am a woman, an intersectional feminist, a psychology student and an aspiring researcher. I study psychology because I believe that there is nothing more fascinating in this world than human feelings and thoughts, and the way they can guide us through life. For centuries people have been able to find ways to cope with pain and celebrate joy, and I am dedicated to honoring these ways while gathering new methods that allow us to offer people even more opportunities to heal themselves.
Invisible bonds are connecting us, social creatures, as we gather into groups and communities and learn to coexist and live our lives together. I grew up in the collectivist society of Moscow, Russia and moved away to explore my own ways and opinions, only to find that I, like many, am most at peace when I maintain both: being myself and being connected to others.
Combining psychology with a vision of sustainable, supportive communities that value each individual's unique character, story and aspirations is something that I try to implement through my work at Hudara. My most current project is to build a network of peer support groups for people with migration background. This way they can share their experiences, express themselves in a safe space and learn to cope with their life in a new country far from home in a supportive environment. Within the group, members can talk freely about their migration experiences, what it means to them and how they find ways to cope and find joy in their everyday lives in a foreign place. Topics such as self-care, dealing with the challenges of relocation, finding peace and strength, networking and building strong support systems are all covered.
As a feminist, I am a firm believer in recognising my heritage and privilege, and I work hard to fight against systems of epistemic violence and oppression. When working with people with migration experience from different places in the world we need to take into account that the way hardship manifests itself, the way it is interpreted, and the societal responses to hardship are very different. Being culturally sensitive and aware is key to tailoring mental health support in exactly the way that is appropriate and meaningful to the people who need it. I have hopes for the future of psychology as a discipline that is inclusive of all epistemologies and acts in the interests of humanity in a fair way, paying attention to every contextual factor that shapes our identities and actions, not only in the Western world but across the globe.