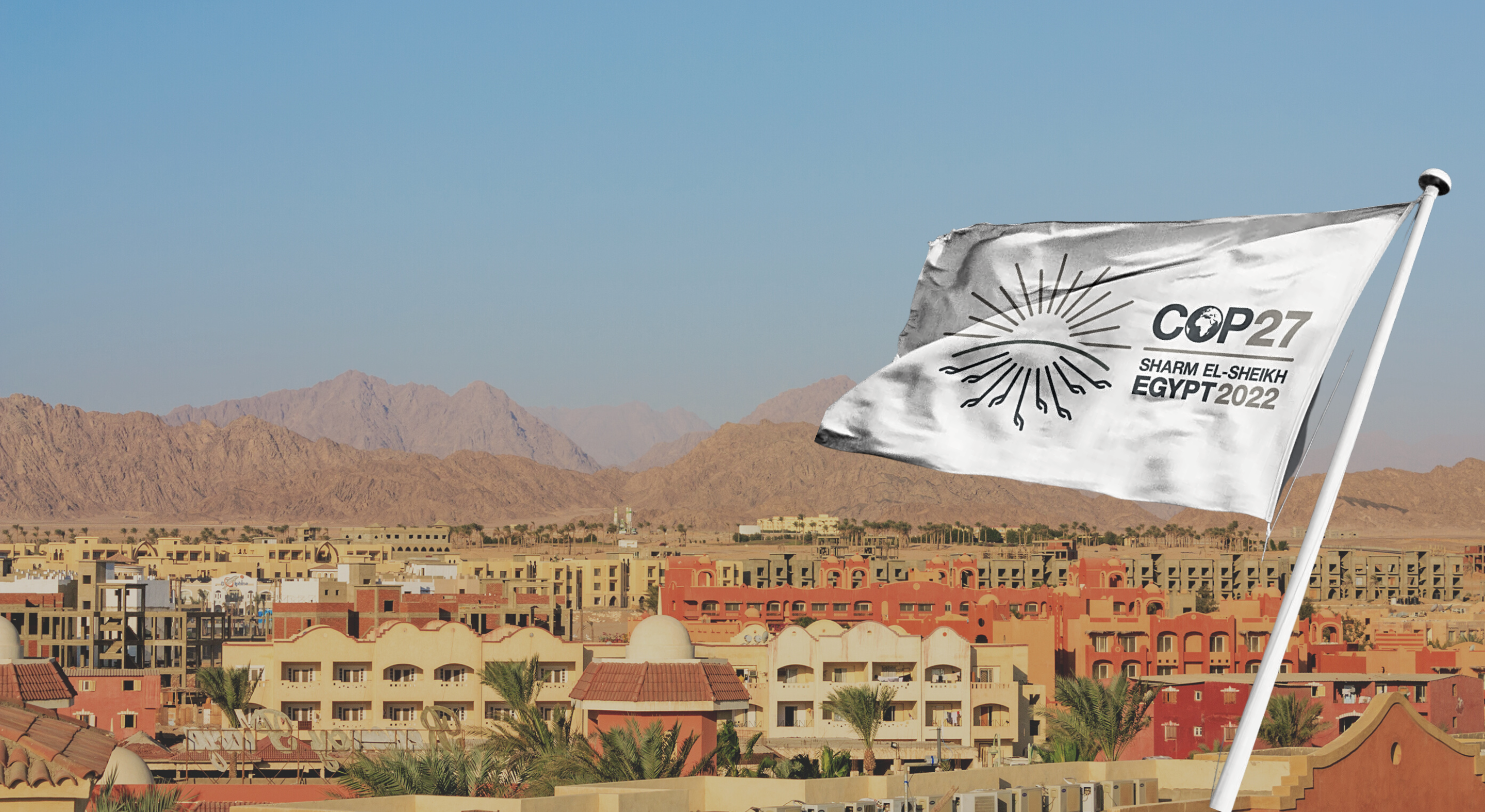 Author:
Anne van Leeuwen,
Operations Coordinator
It was long overdue that this year's international climate conference COP27 (UNFCCC, 2022) was held again in the Global South, after 4 consecutive conferences that took place in Europe. A lot was at stake, as this was to be the COP in which the Global South could finally put pressure on the Global North to officially commit to paying for the damage that climate change is already causing in their countries. There was a small success on this front, but COP27 mainly (and predictably) turned into a massive greenwashing PR and business event for the Egyptian state.
The current Egyptian regime under President Abdelfattah el-Sisi, who came to power in a coup in 2013 and has been rigging elections ever since, has a terrible human rights record. In the run-up to the conference, hundreds of Egyptian activists, including climate activists, were arrested for fear they would disrupt the summit with their free speech. Among those arrested was Indian activist Ajit Rajagopalan, when he tried to walk from Cairo to Sharm el-Sheikh to raise awareness for climate change.
Egyptian civil society participants at the conference were vetted by the regime, meaning there were virtually no local dissenting voices at the conference. There was one notable exception. A press conference by the incredibly brave Sanaa Seif – sister of imprisoned activist Alaa Abdelfattah who had been on hunger strike for seven months in the run-up to the conference – was disrupted by an Egyptian member of parliament, Amr Darwish. The man had to be forcibly removed by UN security forces and a video of the incident went viral on Egyptian Twitter.
Environmental damage is taking place every day in Egypt, either directly caused by the Egyptian government or with its knowledge, and is already affecting the livelihoods of millions of poor Egyptians. Without the open and free participation of Egyptian civil society, this environmental damage remained unaddressed at the conference. Instead, the regime used the event to secure business deals on the sidelines, touting itself as the next big promise in green hydrogen production, a relatively new technology that has not yet matured in Egypt but has nevertheless attracted the attention of European investors.
All of this, of course, comes as no surprise to anyone who knows Egypt's recent history. In the past near decade, civil society has been more and more curtailed, with draconian laws restricting NGOs and arbitrary imprisonment of anyone speaking out. But climate change will not be halted without ordinary citizens organizing, criticizing, and forcing governments to take action. Allowing the Egyptian regime to use the conference as a platform to cover up its ruthless attacks on its citizens and natural environment has done immense damage to the credibility of the COP as an instrument to bring about the structural changes the planet so desperately needs to survive the catastrophe ahead of us.
*Slogan of the coalition of independent Egyptian human rights organizations COP Civic Space
Further reading:
https://www.theguardian.com/environment/2022/oct/18/greenwashing-police-state-egypt-cop27-masquerade-naomi-klein-climate-crisis
https://www.madamasr.com/en/2022/09/29/feature/economy/whats-behind-egypts-green-hydrogen-hype/