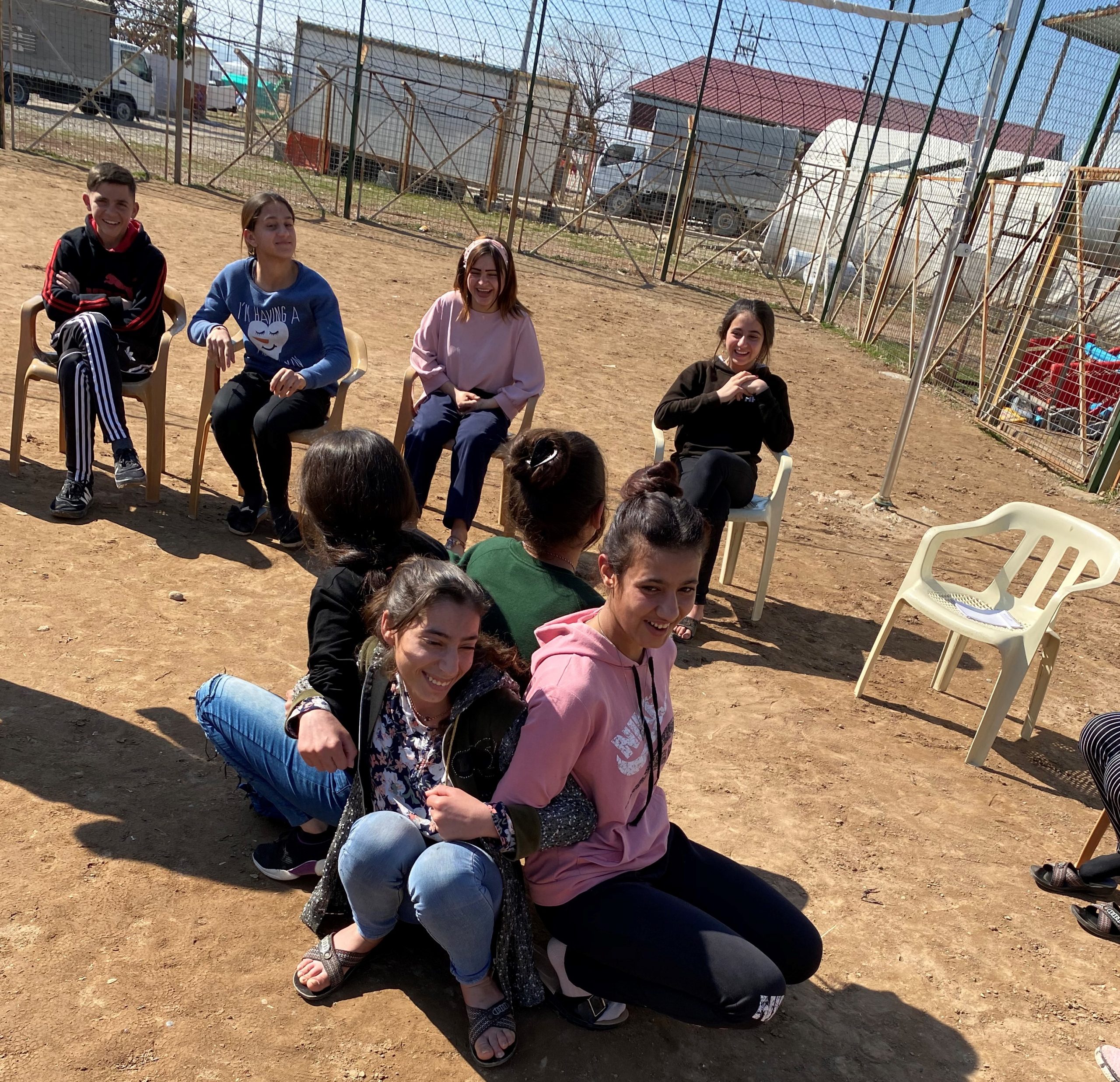 Authors: Farah Barakat & Lena Schmid, Hudara
Iraq has been periodically shaken by recurrent violence and war
The most recent being the invasion of the Islamic State in Iraq and Syria (ISIS). Following its defeat, Iraq is struggling with being a host country for almost 250,000 Syrian refugees, while at the same time coping with the effects of its own past ISIS occupation and almost 1,400,000 internally displaced Iraqis. People are facing tumultuous challenges and a large proportion of the population is suffering psychosocially. In addition, mental disorders such as depression, anxiety and post-traumatic stress are common.
Hudara and Rusaz are working closely together
Rusaz is a youth led, legally registered non-government organization in Iraq which lays emphasis on vulnerable persons, especially females, in early adult life. Mr. Ahmad Salahadeen Saadon is a Dohuk born Kurdish Iraqi, one of the founders of Rusaz which he has been managing for many years. The aim of Hudara and Rusaz shared project is to provide psychological support for young people in Dawadia refugee camp near the city of Dohuk. We support young people in improving their wellbeing and social ties with other adolescents from different ethnic, religious and socio-economic backgrounds  and making room for practical opportunities in how to deal with psychosocial problems. Group therapeutic and individual clinical care is combined with sports and creative activities such as painting, music, photography and handicrafts.
Ahmed Saadon, the director of Rusaz gave us some insights into the current situation during the Covid-19 crisis
He reported that Covid-19 is affecting people enormously at the moment: "We have had an increase in cases recently, and the population in the camps is the most at risk to get the virus, as they live in small huts together with their families, often five to seven people ". This, together with the harsh living conditions and traumatic experiences during previous conflicts, has had a huge impact on people's mental health. As a result, the Iraqi and Kurdish citizens have reached a breaking point through the spread of this virus ".
He tells us about the life stories of young people taking part in the project
"We have many young people and each of them has their own sad story that he/she is trying to cope with. All of them suffer from the very difficult living conditions in the camp, hot in summer, cold in winter, a small room for all family members, only limited school education, almost no leisure activities during the days and a long way to the next bigger city. The economic situation is hard, this brings a lot of stress and depression to most families and now COVID that keeps them trapped all the time in the camp."
He also described some of the particular sad experiences: "Some of the young people we look after have an even bigger hardship. For example, the story of one of the girls who took part in our project. She was captured by ISIS fighters at a very young age, married by force, had children with her husband. She adapted to this situation, made contact with the fighter, changed her religion because of him and became a full Muslim. When the occupation of Mosul ended, however, he disappeared with the children, and she saved herself and rejoined her original family. Together with them she fled to the camp here. The girl had many fears, she could not talk to the community about her affiliation to IS because she knew she would be rejected by them. She suffered a lot and she missed her children. She was confused      where she belonged and what the future should look like. Our psychologist visited her many times at home and spoke to her family members until they came to terms with the girl's suffering and tried to support her. Through our staff the girl received psychological support and she took part in the creative activities. This brought her joy in learning and trying something new, distracted her from misery and connected her with other peers".
Rusaz enjoys to work closely with Hudara
Given the long history of international intervention in Iraq his views regarding this are especially important to us. Ahmed said: "Foreign organisations should seek to work with a local/national organisation, like Hudara did. Our staff at Rusaz are familiar with the local context and culture, and we work together to develop appropriate measures and adapt them to local conditions". This is important to support people in a way that is truly effective and humane in terms of traditions and cultural background. This requires great sensitivity and understanding of what the people in Kurdistan have gone through, a task for which a local organisation like Rusaz has the experience and the possibilities. In addition, such an approach increases the capacities of local professionals, which in turn increases the sustainability of the project activities.
People with mental problems fear to be stigmatized
It is still a huge step to come for help. People in Iraq often see mental health as "no big deal". In addition, given the many experiences of trauma and conflict, many of the stressful feelings are normalised as sometimes the whole population is collectively affected in some way. Since mental health and resilience of its members is inherent in a peaceful society, this is a fragile situation.
The view into the future
There are also good things: "The political conditions in the country are getting a little more under control, and I hope that this will also improve the mental conditions of the population to some extent. There is still a long way to go before stable peace is achieved, and the work of organisations like Hudara and Rusaz is very effective in this process".Together with Ahmed and the other staff of Rusaz we believe in the positive impulses that our work creates through small everyday successes.