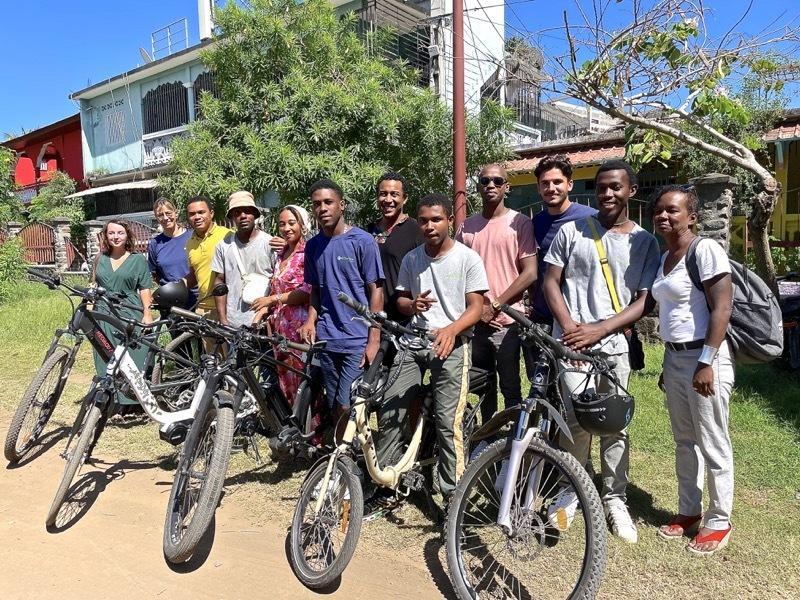 We started a new project named GEZUMI, abbreviated from the German "Our community as a home for people with migration background", a network of support groups across three German cities. Come to GeKo Berlin (Rollbergstraße 30) on Mondays (4.00 – 5.30pm or 6.30 – 8.00pm), Mikado in Frankfurt Oder (Franz-Mehring-Straße 20) on Tuesdays (4.00 – 5.30pm) and stay tuned for the dates in Halle (info on webpage and social media). Let's connect, grow and support each other in these encouraging spaces!
Our community space in Mosul, Iraq's second largest city, as part of our RAWABET (connections in Arabic) project is now open. The ethnically, religiously diverse city, with its long history and culture, was captured in 2014 by ISIS militants, who established a repressive rule against its citizens and largely destroyed the city. Since liberation in 2017, the people of Mosul are trying to rebuild their daily lives and find trust and hope in each other. This is a long, difficult journey. Our project aims to strengthen communities and provide a safe and supportive space with psychosocial activities, dialogues and personal encounters.
The vast majority of displaced people do not have access to clean and sustainable energy. Our Humanitarian Energy working group at Hudara (HUM-EN) are actively working to gain more systematic knowledge of the current situation and further develop community-based implementation approaches to ensure a just and people-centred transition in humanitarian energy provision. Recently, the result of our collaboration with UNHCR was published, in which we examined existing energy initiatives in refugee settlements in Uganda, Rwanda, Ethiopia and Kenya, and derived lessons for future activities. The challenge now is to turn the findings into concrete project ideas.
As part of our community-based approach in the MAESHA (future in Shimaore) project we have established several local energy communities on the island of Mayotte (with more to come). Last week, we held the kick-off event for our future bike technicians. We recruited four young people to be trained as (e-)bike technicians. On the small island of Mayotte, cars are the main means of transportation, there is no public transportation except for a ferry and school buses, and most people don't know how to ride a bike. Our four technicians will support the transition to smoother, shared, energy-saving and low-carbon mobility on Mayotte. Awareness workshops are also an important part of our work in Mayotte. We have conducted several Climate Fresk workshops for school children on the island. This is an interactive and accessible workshop format designed to communicate climate change and energy transition through group discussion and team work. Currently, we are organising a training for interested students to become workshop facilitators themselves, and share their knowledge and curiosity.
Our ENERGICA project began over a year ago and we began collaborating with many partners from the African and European continents to promote a clean and sustainable energy transition in Kenya, Madagascar, and Sierra Leone, Hudara conducted a mapping exercise in Nairobi, Kenya, the Diana region in Madagascar, and Freetown, Sierra Leone. For this purpose, we completed a survey with 1674 respondents and 36 key informant interviews focusing on individuals working in the public, business, non-profit, and community sectors on various aspects of the energy supply. This provided an opportunity to learn more about the social, cultural, and environmental context of the local communities, markets, and ecosystems. It also provided insights into communities' perspectives on renewable energy, energy transition as well as their own roles in support of energy transition. Additionally, the insights from the survey inform other work packages to implement their missions in the future.